SR-22 Auto Insurance
What is an SR-22?
A SR-22 is a piece of paper. This is what it looks like: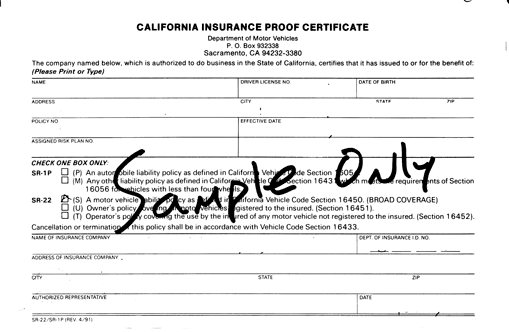 An SR-22 Filing is a document or electronic certification issued by an auto insurance company that verifies to the state that you have an auto insurance policy with the state minimum liability limits.
If you don't pay your insurance the insurance company sends a SR-26 to the State and then the State suspends your drivers license again.
An individual may be required to file for SR-22 car insurance for three reasons.
Dui -Dwi
Excessive moving violations within a set period of time
Accident without insurance
If you get a DUI the State will automatically suspend your drivers license for 30 days. The only execption to this is if you get a lawyer and he/she files a temporary license for you. The license suspension will then begin when you and your lawyer decide to let it begin.